#WHTSPP RECORDS - Festival ElDorado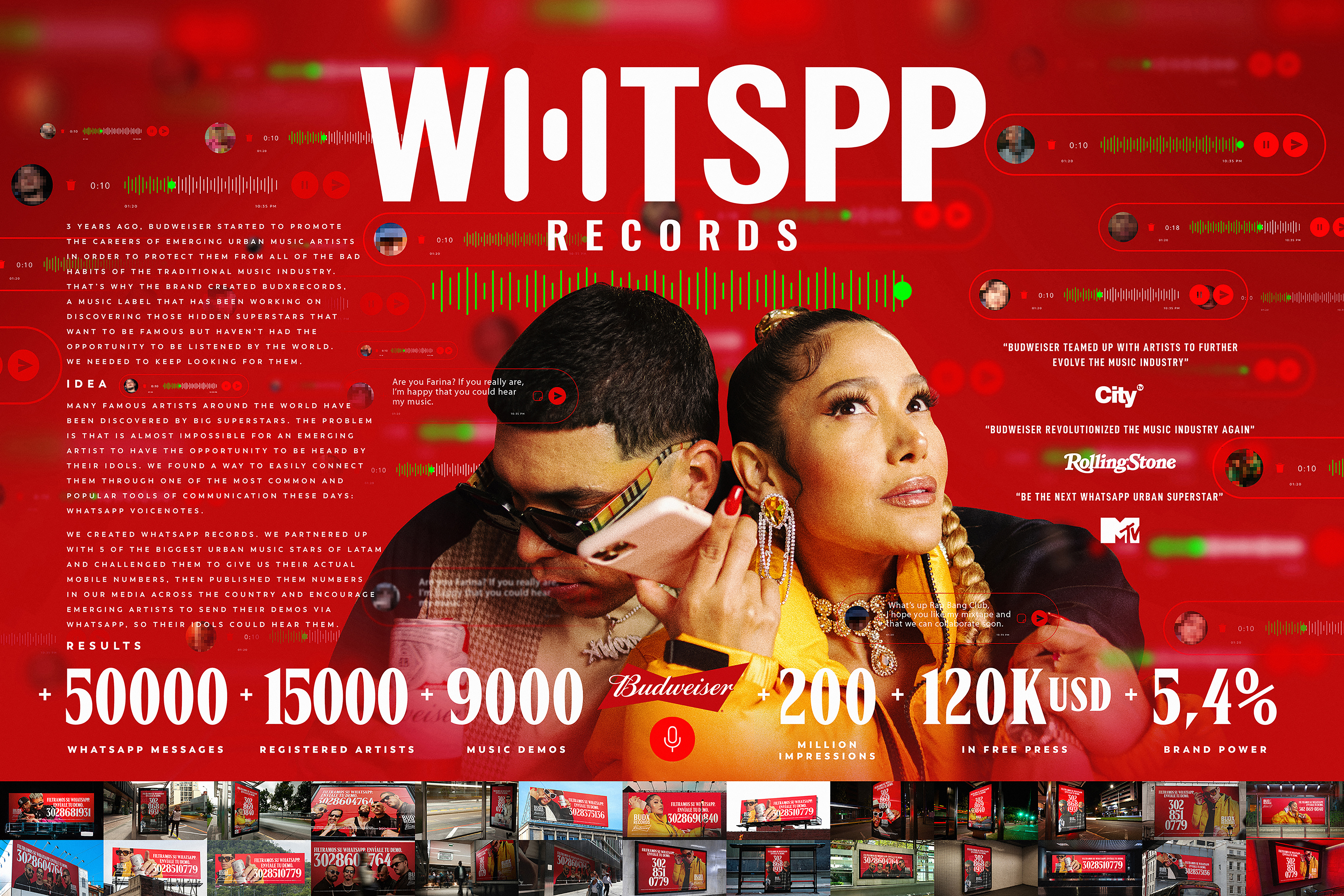 #WHTSPP RECORDS
Descripción de la inscripción
Since 2021, Budweiser decided to create the BudX Records label. A record label whose purpose is to fight against the status quo of the music industry to promote the new promises of the urban genre, from hip hop, reggaeton, trap, soul, R&B, dancehall and dembow throughout the country. This year, we had the challenge of doubling the number of artists summoned in the country, in 2021 we managed to summon 1,200 emerging artists, this year the goal was 8,000, we also had to make our label BudX Records become a credible, consistent platform and strong within the urban scene in the country.

For this reason, we created WHTSPP Records and filtered through our communication the number of the most listened to urban genre references in Colombia such as: Ryan Castro, Farina, LosPetitFellas, Rap Bang Club and Yera Music. All so that emerging artists could write to them and send them their demo as easy as sending them a voice note on WhatsApp.

With this we not only closed a gap between new artists and idols to collaborate musically, but we also made the call accessible so that artists who live even in rural areas could have the opportunity to be heard and become the new artist to sign the label BudX Records this year.

We add that Whatsapp was the main communication app in the country with approximately 39 million monthly active users, our artists were involved in finding new musical talent and the leak of their numbers as a hook, detonated in a campaign with these excellent results.
Compañía que inscribe: David Bogotá
Producto: Bebidas alcohólicas
Anunciante: Budweiser
Premio: 1 Plata
Categoría: Creative Effectiveness,
Créditos
Carlos Andrés Rodríguez , Director Creativo General
Juan Pablo García, Director Creativo Ejecutivo
Jonnathan Rodríguez - Nicolás Téllez, Redactor
Izmael Crespo / David Beltrán / Luis Fernando Luque, Director de Arte
Krizia Brühl, Ejecutivo de Cuenta
Carmen de Ureña, Planner
Otros créditos:
Diego Pomareda, Colombia Marketing Director - International Brands, Craft and Adjacencies Colombia
Inscrita por:
Juan Pablo García, Director Creativo Ejecutivo